/Costa Coffee
Here's what to expect for 2023's festive seasonal menus
Greggs, Leon, Costa Coffee, and more reveal the mains for this year's Christmas season.
With holidays around the corner, restaurants have started to announce their Christmas menu specials.
Costa Coffee's new drink
This Christmas season, Costa Coffee's new drink inspiration is UK's favourite dessert: the Sticky Toffee Pudding.
The tasty new Sticky Toffee Latte and new Sticky Toffee Iced Latte have joined the festive menu, providing coffee lovers – both hot and cold, with a new Christmas favourite. Both drinks feature a yummy sticky toffee-flavoured sauce, topped with Light Whip, and drizzled with even more sauce, finished with a sprinkling of bronze shimmery, angel-like dusting.
The brand is also adding the new Roasted Hazel Latte and new Roasted Hazel Hot Chocolate this year for those who want a luxurious milky coffee or to indulge in their chocolatey cravings. Both new hot beverages include a flavourful roasted hazelnut syrup, topped with Light Whip, and completed with a beautiful, bronzed shimmer and mini gold stars.
Greggs's returning favourite
Greggs has brought back the Festive Bake, full to the brim with succulent chicken pieces, sage and onion stuffing and crispy sweetcure bacon, with a sage and cranberry sauce – all wrapped in an unbeatable crumb-coated pastry.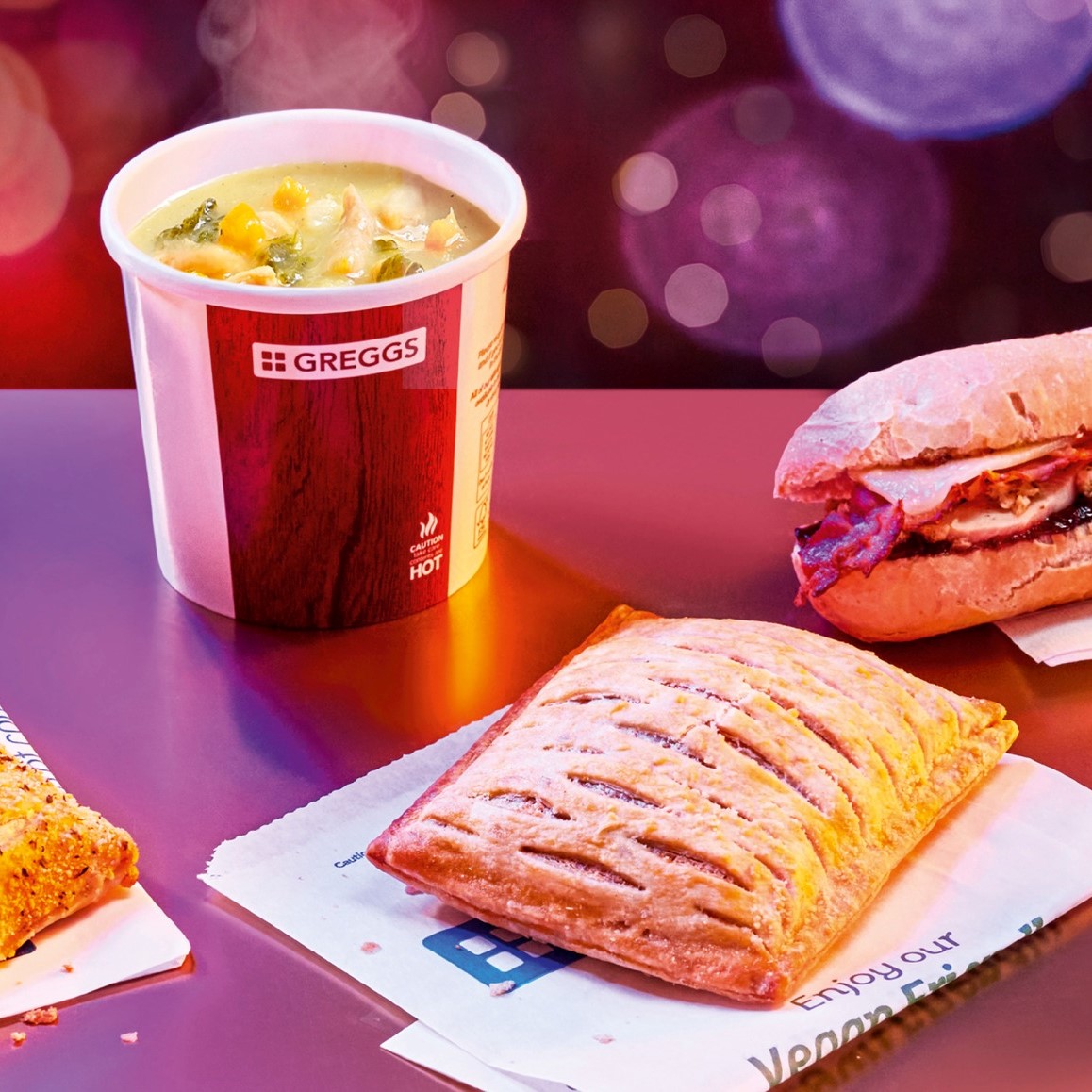 Meanwhile, vegans can enjoy the Spicy Veg Curry Bake, made with a mix of rice and veg, including chickpeas, onions, sweetcorn, pepper and parsnip all in a curry sauce - with added chillies for that kick of seasonal spice.
Also joining this year is the new Orange Hot Chocolate, Greggs' Fairtrade hot chocolate drink made with steamed milk and sweet orange flavour syrup, topped with cream and orange sugar sprinkles.
Leon's festive inspiration
Leon's new menu is headlined by the Festive Feast Wrap, made with turkey braised in Leon's own festive gravy with pork stuffing balls, bacon, and tangy cranberry and orange sauce, wrapped with Aioli, lettuce, and crispy onions.
Its Christmas menu will also see the return of the Turkey Christmassaman Curry which is a marinated turkey with roast potatoes and carrot, cooked in a coconutty sauce and served with crispy onions and pink kraut
I am Doner's Christmas kebab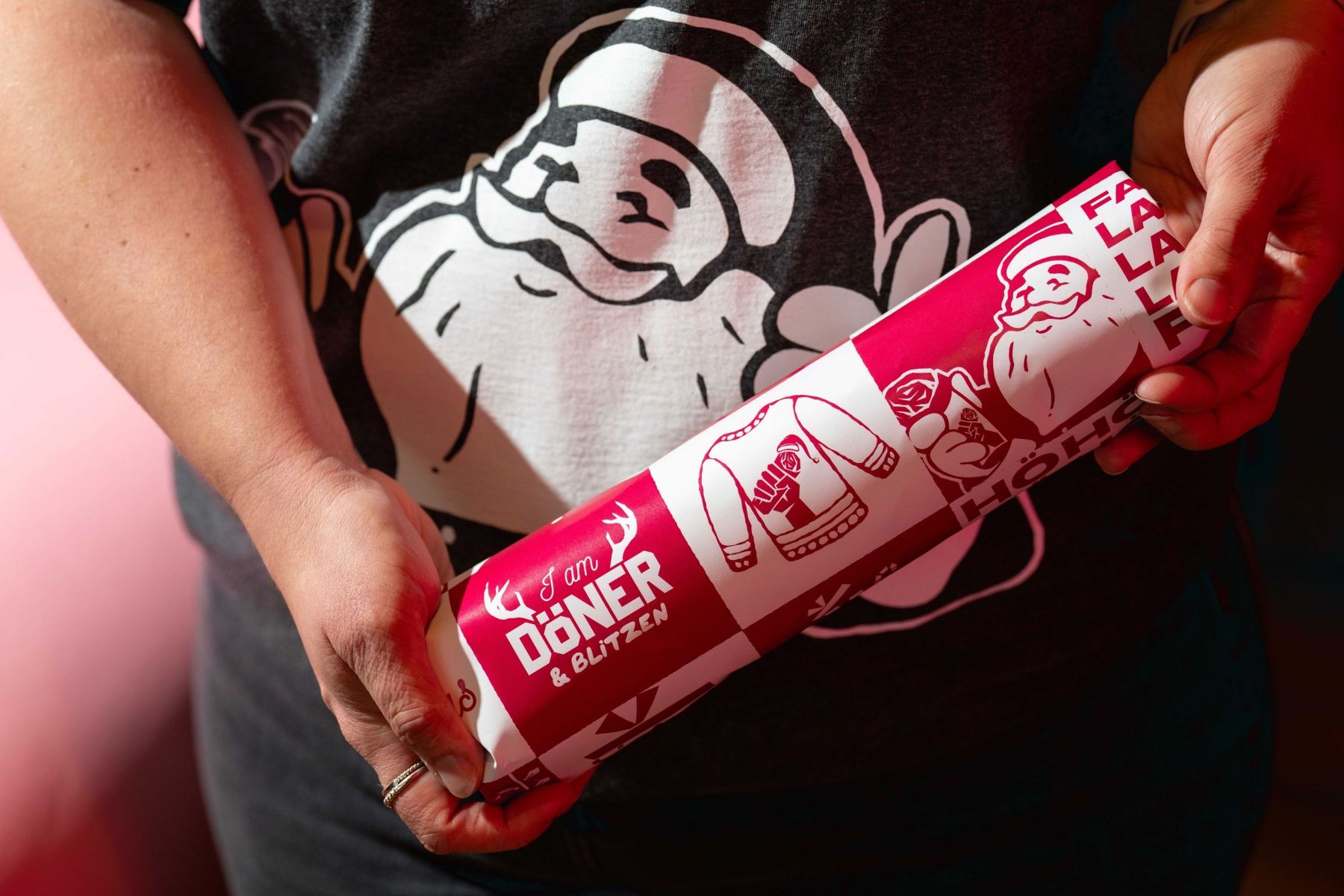 I am Doner has also released its festive Christmas Dinner Doner, packed full of honey and sage roast turkey doner with roast potatoes, shredded sprouts, crispy parsnips, red cabbage, root vegetables and cranberries, smothered in turkey gravy – all in a wrap or in a bowl and also comes with a vegan option.
TGI Friday's twist
TGI Friday's Christmas menu will include the Festive Jumbo Shrimp Cocktail, a modern twist on a Christmas classic, the Fridays Festive Glazed Burger which is filled with layers of Monterey Jack cheese, crispy bacon, crowned with a Stuffing Ball and Fridays Legendary Glaze for drizzling, and the Festive Pudding Sundae for dessert, made with Christmas pudding, custard and served with vanilla ice cream, cherry compote and toasted mallow.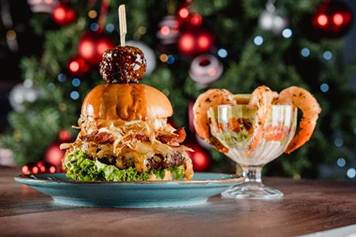 The restaurant brand will also be releasing a special promotion for an appetizer and a main course starting at £24.95 as well as 2-for-1 Christmas cocktails.
Caffe Nero's returning classics
Caffe Nero's Mince Pies and Pigs Under Blankets Panini are back by popular demand, bringing new menu items with them.
Its new Winter Blends lineup comes with five new additions to the menu this year, including the Panettone Latte, Florentine Mocha, Millionaires Hot Chocolate, Sticky Toffee Pudding Cheesecake, and Millionaires Cake.
The brand's Vegan Festive Feast is also making a comeback.
KFC's Stuffing range
Fried chicken fast-food brand KFC is also jumping on with new festive menus, starting with the Stuffing Stack Burger and the Stuffing Tower Burger. Both burgers will have a delicious Chrimast twist of sage and onion stuffing as well as spicy cranberry sauce.
KFC's new Christmas menu will be available until 1 January.